The past few days we've been traveling with the same group of people. We've had some really good laughs! Fun crew. Loud, but fun.
Here's to Supa Chef and Speedy Gonzales, Stretch, Mean Gene, Falling Turtle, Trash Can and Irish Charm.
Anyway, in the middle of a conversation about beard growing, Stretch looks at me and says, "You know who you remind me of? Les Stroud. Wait, do you have a trail name yet?"
And that's the story of how I became . . . Survivorman.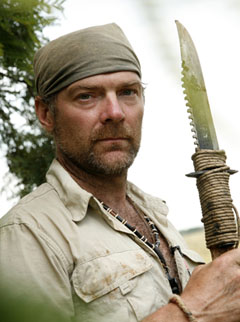 PS – I'm not sure I see the resemblance. I mean sure we both wear bandannas and have two eyes, a nose and mouth, but . . . ? But I'm OK with it. He's a MAN's man.